Book Launch & Discussion
Posted in Events
Globalism and Localization
Thursday, November 7th, 5pm
WALSH Building, Room 498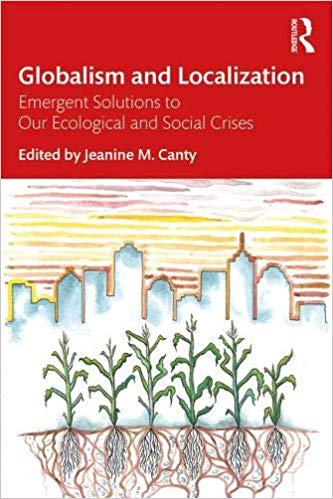 Join us for a panel discussion of the new book, Globalism and Localization: Emergent Approaches to Ecological and Social Crises. Within this collection, contributors expound upon the connection between local and global phenomenon within their respective fields including social ecology, climate justice, ecopsychology, big history, peace ecology, social justice, community resilience, indigenous rights, permaculture, food justice, liberatory politics, and both transformative and transpersonal studies.
The following authors will discuss their experiences in addressing the ecological and social crises highlighted in the book, and how these can become tools for transformation:
Jeanine M. Canty is Professor and Chair of the Environmental Studies department at Naropa University. She is the editor of the book and teaches courses including: Ecopsychology, Deep Ecology, Environmental Justice, Indigenous Environmental Issues, Multicultural Perspectives for Environmental Leaders, and an 8-day Wilderness solo. Her work intersects issues of social and ecological justice and she is very interested in the process individuals go through to reach heightened awareness and translating this to positive change. (Intro. & Ch. 3, The Ties That Bind: An Earth-Based Story of Home)
Asoka Bandarage has served on the faculties of Brandeis University, Georgetown University, and Mount Holyoke College where she was also the Chair of the Women's Studies Program. She is the author of the books: Colonialism in Sri Lanka, Women, Population and Global Crisis, The Separatist Conflict in Sri Lanka, Sustainability and Well-Being: The Middle Path to Environment, Society and the Economy, and numerous other publications. She serves on the boards of Critical Asian Studies, Interfaith Moral Action on Climate, International Buddhist Association of America and The International Society for Consciousness Studies. She is currently visiting professor at Colorado College & Georgetown. (Ch. 9, Ethical Path to Ecological & Social Survival)
Randall Amster is Teaching Professor and Co-director of the Environmental Studies program at Georgetown University. He teaches and publishes on subjects including peace and nonviolence, social and environmental justice, political theory, and emerging technologies. He serves on the editorial board of numerous academic journals, and writes for a wide range of popular and scholarly publications. His most recent book is Peace Ecology (Routledge, 2015). (Ch. 10, Living La Vida Local: Small Steps Toward Global Change)
Any accommodation requests should be made by 11/1 to randall.amster@georgetown.edu (new window).